Litchfield county in the summer to me is quintessential country living;  days on the farm with access to some of the best small businesses in Connectictut.  Just an hours drive north of Fairfield County; now an area to many former city dwellers and becoming home or the perfect road trip during the new norm!  Below I am sharing some of my favorite spots around town in Litchfield County.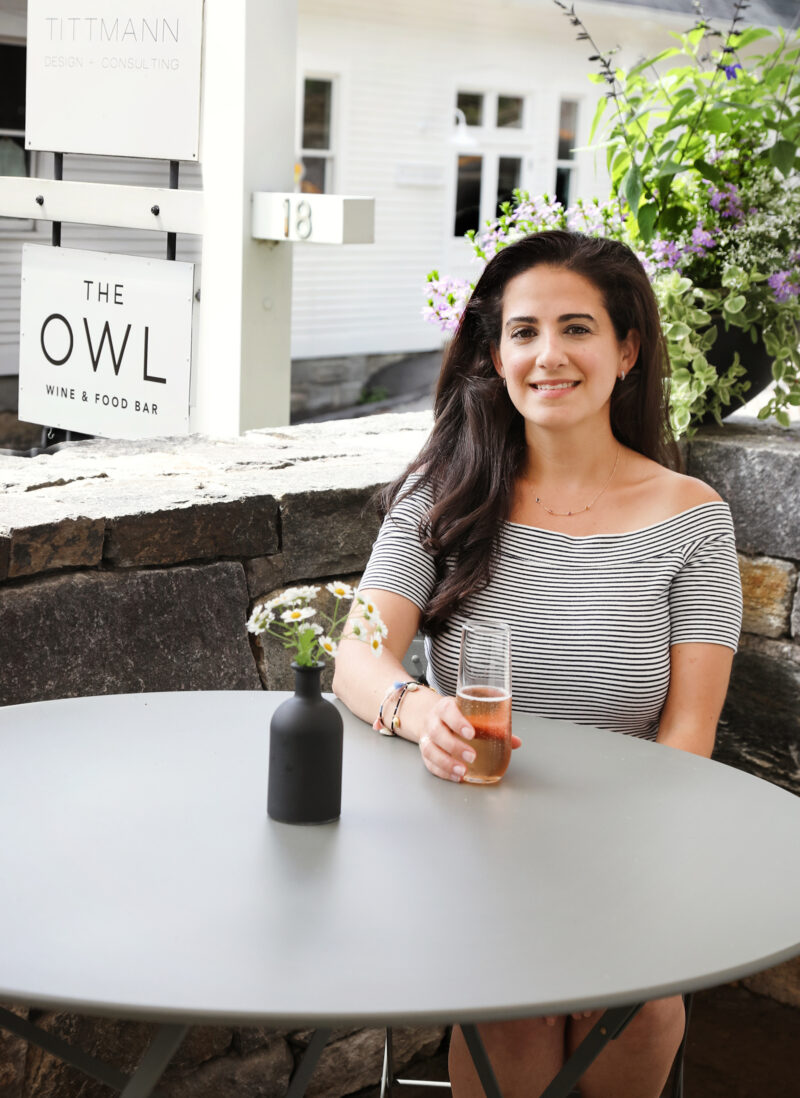 Is there anything more romantic then a glass of wine in a cozy bar set in the countryside.  Tucked in the quaint town of New Preston, CT lives a chic Wine & Food Bar, The Owl.  John Bourdeau and Ryan Cangello partnered effective January 1, 2020 to expand The Owl Wine Bar into The Owl Wine & Food Bar by taking the former hair salon space and putting in a new kitchen.  John has always had the dream of expanding the space by bringing his culinary expertise to the table.  It is no small feat, and with Ryan's partnership, who ran a notable restaurant in the heart of Manhattan's Chelsea neighborhood for years before creating his own boutique catering business, he was able to seamlessly make this happen.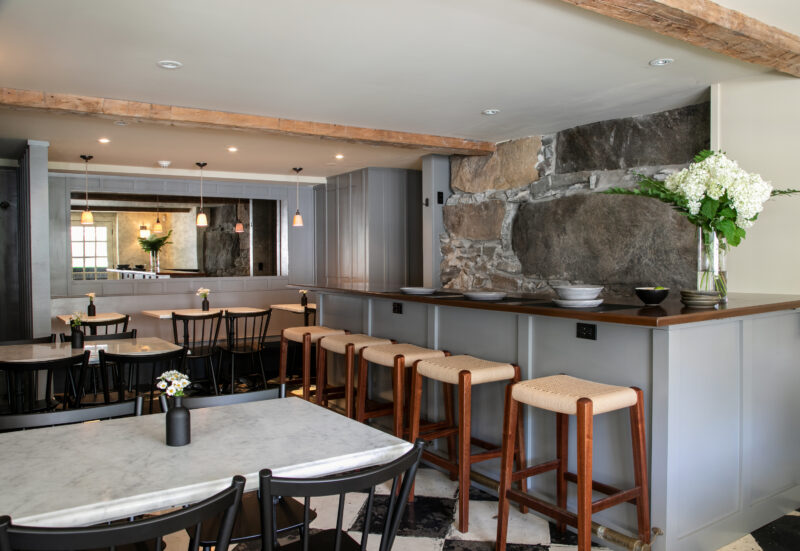 With a new menu and expanded concept, they thought the interior space should reflect some of the changes being made.  Thanks to the help of the creativity of the
Plain Goods Team
, who worked on the redesign of both the interior and exterior of the space; the wheels were in motion to create a fresh, new energy to the already chic and cozy environment.  The Plain Goods team worked with John and Ryan on everything from the rebranding down to the linens.  The Owl shut down March 2, 2020 to implement renovations and put in the kitchen.  Then Covid happened.  Having found themselves in a very unique position, they took some time to strategize their next steps.  Together they were able to forge ahead and bring themselves back to the community of New Preston and all of Litchfield County that has always been there for The Owl.
The menu has been a work in progress to slowly build momentum as people feel more and more comfortable to dine out again.  John and Ryan believe in bringing people together through easy, delicious food and wine that people can share in together.  Fun and imaginative 12″ crafted pizzas, shared plates, and salads are just the way to achieve that and have proven to be a brilliant success so far.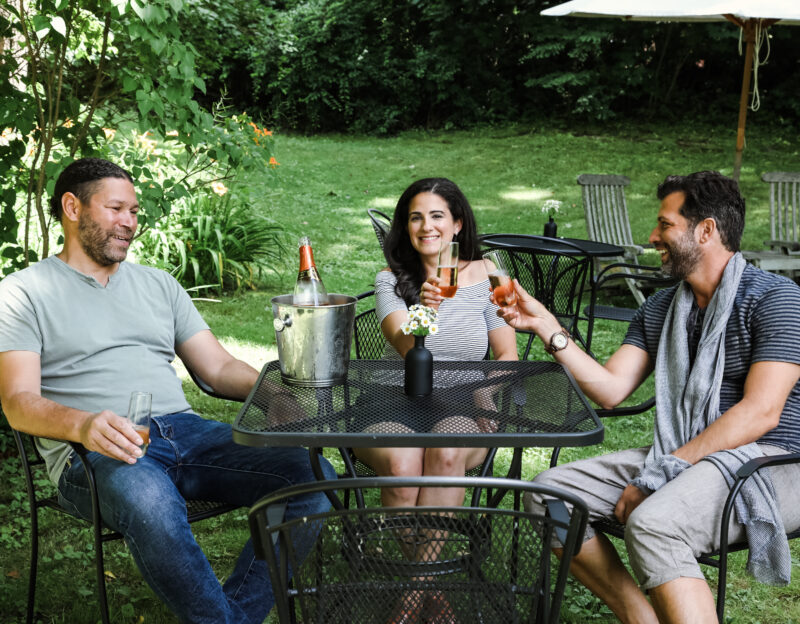 Ryan and John treat this as their home and they are there to treat their guests as friends and family.  So sit and enjoy yourselves while tasting John's imaginative flavors and drinking a thoughtfully procured wine and cocktail list. Hours are Wednesday through Friday 4-9pm, Saturday 12-9pm, and Sunday 12-6pm.
I can't say this enough but we are so lucky to have Arethusa in our backyard.  It has turned Bantam, CT into an evolving culinary destination.  With revised services, you will find their front doors turned into an order window; allowing you to still enjoy your favorite ice cream.  Pre-orders, scoops, pints, a dairy selection and eggs are still available.  Line markers are on the ground to keep guests 6ft apart along the sidewalk to the parking lot.  I recommend visits early or during the week as you can find long lines.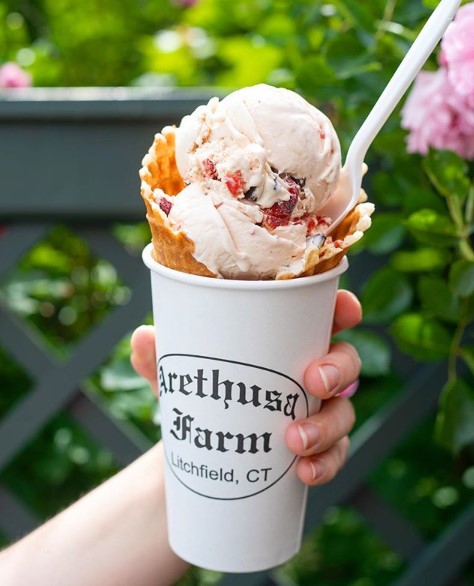 They are currently scooping:
Cherry Dark Chocolate Chunk, Strawberry, Coffee, Chocolate, Vanilla, Sweet Cream, and Mint Chip. All flavors are available in pints.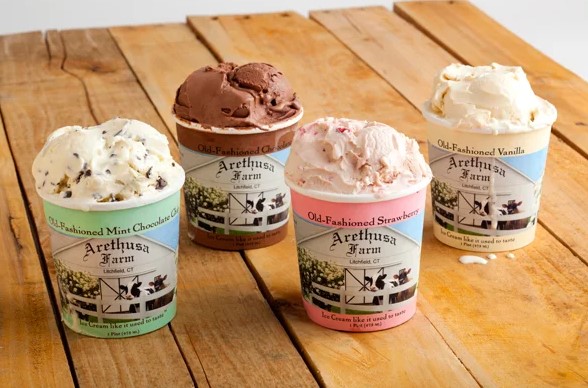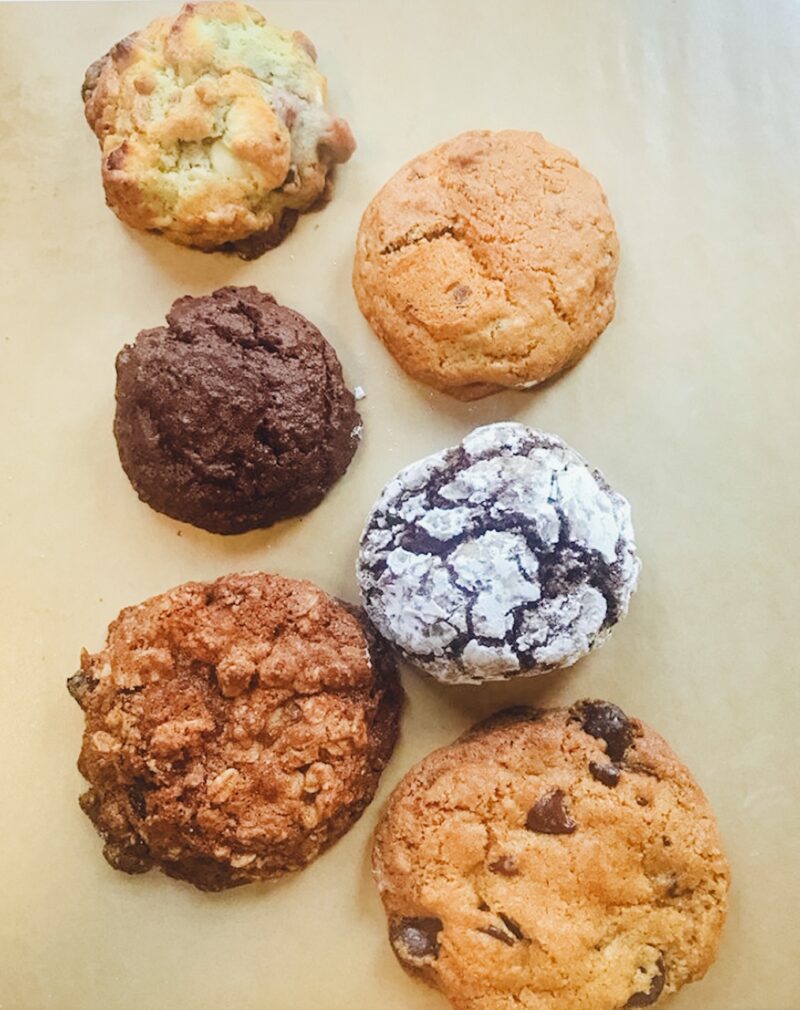 On the green in Cornwall Village, CT lives the sweetest little farmers market every Saturday morning from 9am-12:30pm.  All local; 11 Cornwall farms sell Veggies, Meats, Dairy, Baked Goods, Maple Syrup, Herbs, Flowers and Wool Products.   The Co-Op is committed to providing fresh, local, healthy and seasonal food to the community.  We frequent most weekends to start off our morning adventures.   After a visit to the vendors, I recommend a walk down to Valley Road to take in the beauty.  Our favorites are cookies from Suzies Sweets and Maple Balsamic salad dressing from Ridgeway Farm.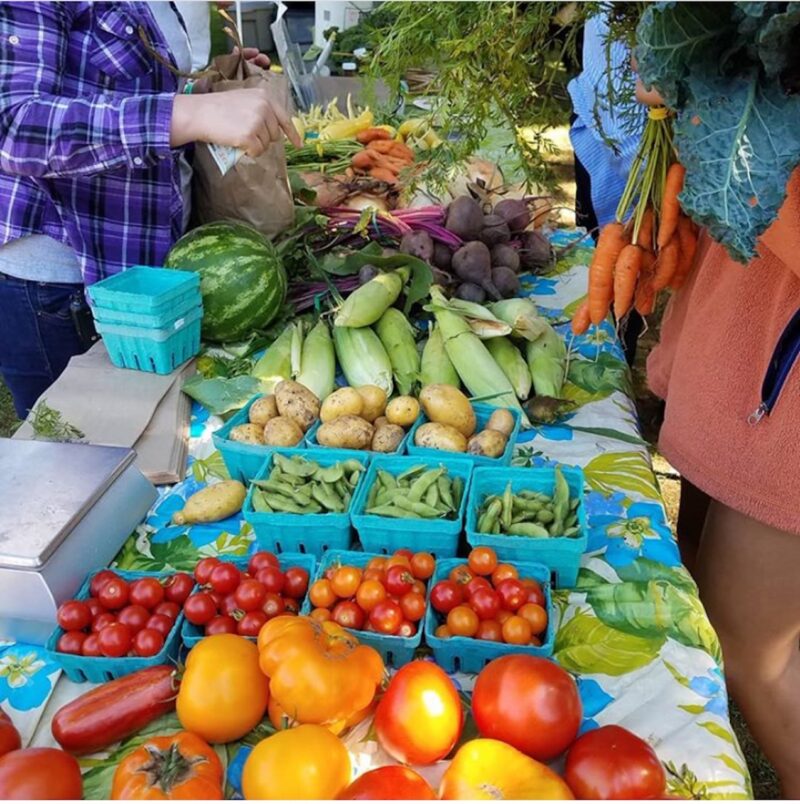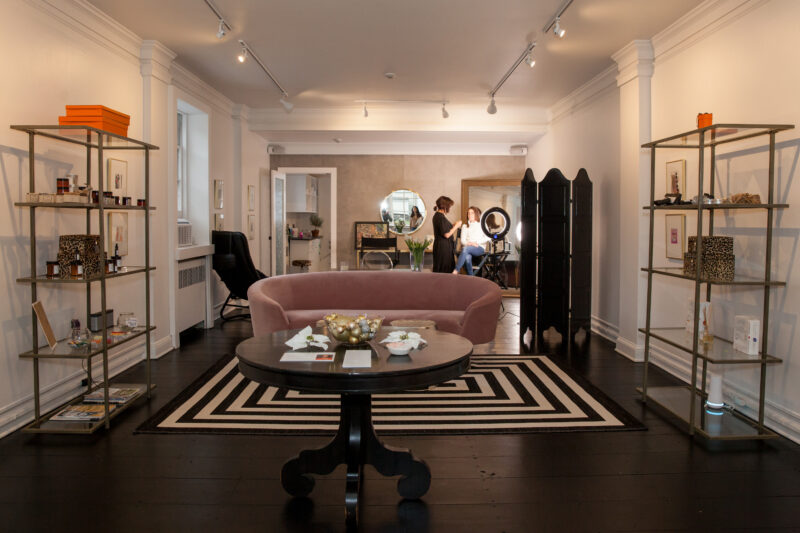 This is one to wait for!  Self care took on a new meaning during quarentine.  Never in my life did I want my brows shaped so badly!  Luckily, opening August 1st Pilar Bllac will be back in business with limited days, hours and services.  For the month of August Only, Pilar Bllac will be open on Fridays 10am-3pm and Saturdays 11am-2pm offering the following services:
Brows: Shaping, Tinting, Lamination, Consultation for Microblading
Hair Renoval: Lip and Chin
Skin: LightStim LED Treatment for fine lines, acne, overall quality of skin
Microblading: Thursdays, ONLY one client per day (currently sold out and taking names for waitlist)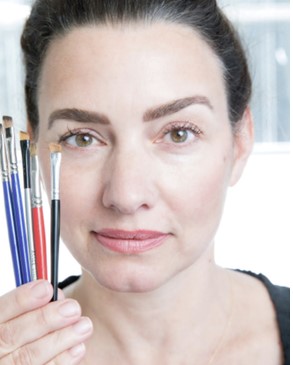 Unfortunately given the circumstances there are no walk-ins or last minute appointments.  Masks are required at entry and for the entire service, hand sanitizer will be provided upon entry & exit and clients must come alone without bags.  Credit card only, no cash accepted.  Pilar is excited to keep Litchfield beautiful and hoping to announce dates for September soon!
WKND  and WKND at the MayFlower
One of my favorite local boutiques in Warren, CT now also has a pop-up at the MayFlower Inn & Spa.
When David Asmar brought WKND to Warren; I felt like a little slice of NYC was brought up to the country; something I so needed as a former city girl.  You can now find thier chic selection of clothes and accessories set up as a pop up in the spa area at the MayFlower.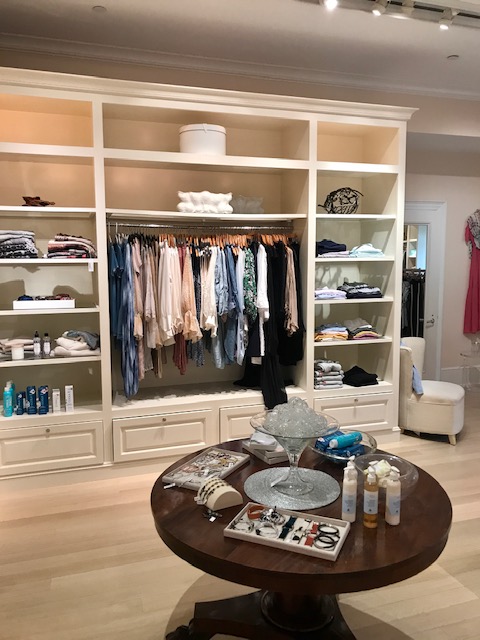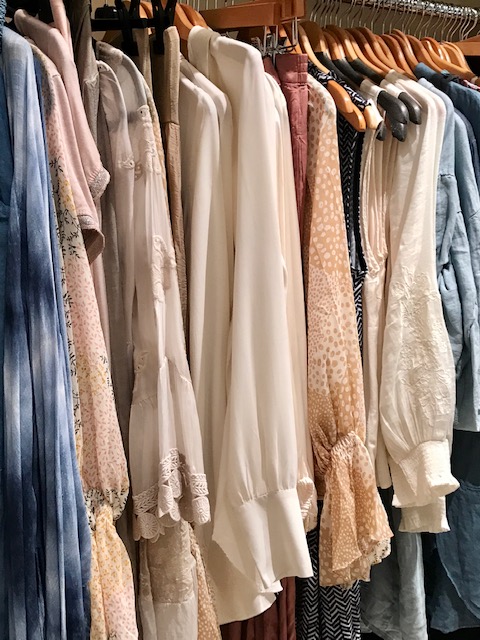 WKND's main store front is also back open in Warren Town Center.  You can stop in Thursdays thru Sundays from 11am-5pm.  This is the perfect spot to find a great summer dress or gifts for someone special.  There is a great selection for any occasion.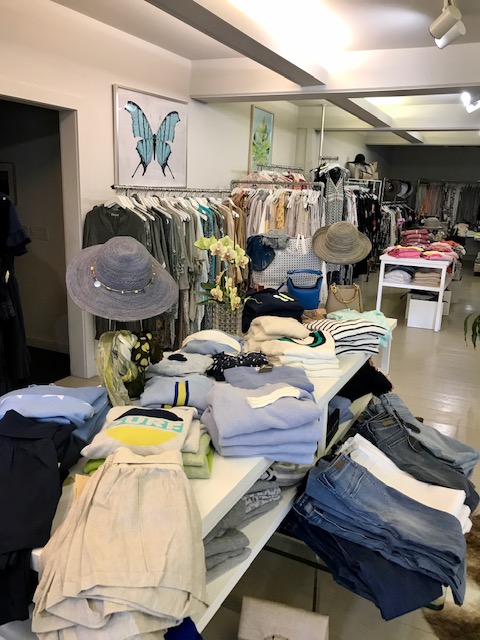 Whether you are having a dinner party on your patio, taking a walk through town or a day trip to the many lakes in the Litchfield area; David and team are there to keep you looking your best.