I am finally surfacing from the blissful newborn fog and found some time to sit down and type up my birth story.  Our little prince is just over a month old and doing great!  I am so thankful to say that he is basically perfection!  Alexander came into this world fast and furious.  I decided to share my birth story as it was a bit traumatizing and an experience I have actually never heard of.  Turns out, this story is more common than I had thought; it's just that no one really discussed it with me.
The birth was a planned induction one week before the baby's due date.  My doctor and I decided on this as I was already 3cm dilated (for a few weeks), having lots of false labor, and because both my daughters came a little early.  I do not share a ton about my family; including pictures of my children, but I have two daughters and our son is the grand finale 😊
I was induced with Pitocin. The process from start to baby in my arms was about 4 hours.  With my other pregnancies, I had an epidural and both were amazing experiences.  So, needless to say, going into this birth plan, I never thought twice about having an epidural again.
This was my first time being induced.  Anyone who has had a baby during the pandemic, knows there is a bit of added stress walking into those hospital doors.   After getting checked in, getting a covid test, and receiving one full bag of IV fluids, I was masked up and prepared to have a similar birth experience as I had in the past.  The Pitocin was added and then increased about every 30 mins.  I initially progressed slowly but around the 2.5-3 hour mark, I started feeling painful contractions coming on quickly.  Even though this was different from going into labor naturally, I still felt I was in control and letting my body experience what it needed to.  At this point, I felt that my pain was hitting high gear and becoming unbearable.  So, I decided to ask for the epidural.  Before they set you up for the epidural, the doctor checks your cervix.  I was only 5cm dilated and my water still hadn't broken.
OK, here starts the plot twist in my story….
My nurse ordered my epidural and in comes the anesthesiologist a few minutes later.  The nerves kicked in but since I have had two previously, I figured I knew what to expect.  My back was prepped with the iodine and in went the needle.  I immediately knew something was wrong.  I felt the burning tingle as the medication went in, but then my left leg uncontrollably kicked out and a shooting pain traveled up the left side of my body, through my neck and then the pain swirled around my face settling at the top of my head (WTF; Am I having a stroke???).  The nurse grabbed my legs, holding them down, and yelled at me to not move. I inhaled a deep breathe to not panic or move and tried explaining the pain I was feeling.  My nurse was understanding, repeating what I said, but the anesthesiologist didn't say much.  They both helped lay me down and everyone in the room could tell I was unsettled.  I began feeling a headache and then the anesthesiologist looked at his "handy work" and decided he wanted to do the epidural again; something didn't look right he said.  I was confused, very focused on my pain and kind of just went with it.  They took the epidural out and then put another one back in.  Once the second one was in, I had an instant painful headache.  The medication worked quickly but unfortunately, I only felt numb on my left side.  It was very uncomfortable and such a weird feeling to be numb on only one side.  I was in pain and felt very uncomfortable, but then my mind shifted back…OMG you are in labor and guess what?  This baby wants out!
About five minutes after the second epidural was in, my OBGYN came back in to break my water and check my cervix.  I was then at 7 cm and she hinted that things might  happen quickly.  In the next eight minutes, I progressed to being fully dilated. My legs were placed in the stirrups.  The delivery room was transformed.  And in enters the team.  I pushed for nine minutes and our perfect little boy entered the world.  Thankfully, during this time, I felt at peace and just so happy.  We were also surprised to find out our baby was a boy!  Mamas, if you can do it, I recommend being surprised with the gender of one of your babies.  It really is the most amazing surprise you will ever experience.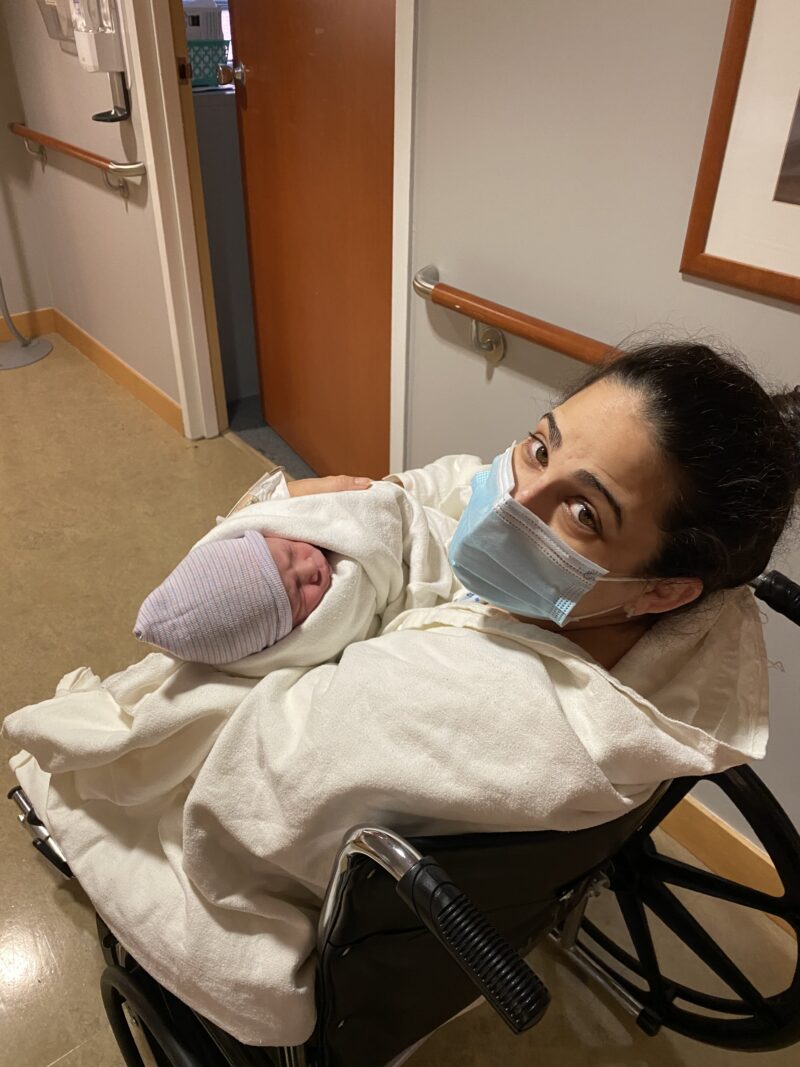 I didn't stay in my delivery room long.  Unfortunately, as soon as I went to the maternity ward, I felt the headache again.  This was the beginning of 10 days of horrible pain.  I came to find out that the anesthesiologist had put the first epidural needle in too far, puncturing my spine and I was leaking spinal fluid.  The pain I was feeling is called a spinal headache.  The strange thing about spinal headaches is that they come and go; specifically with laying down and sitting up.  After I was told what happened, the recommendation was to lay flat as much as I could, take pain meds, drink lots of fluids, and drink as much caffeine as I could handle.  If the headaches were to become unmanageable, I was told there was a treatment that I could get called a blood patch.
A blood patch is a procedure where they draw your blood and inject it back into your spine to form clots and close up the hole where the spinal fluid is leaking.  This idea sounded super scary to me!  My headaches were intense, but I was managing them. I was just so scared for anyone to stick something in my back again.
Due to covid, you are actually able to leave the hospital after 24 hours pending clearance by your doctor.  I was cleared at my 24 hour mark but stayed another 10-12 hours just to see how the headaches were doing.  Around the 36 hour mark, my husband and I decided to leave and head home so our daughters could meet their new baby brother.  At this point, I felt that it would be more comfortable to manage my healing and headaches in the comfort of my own home.
It was the sweetest moment to introduce the girls to baby Alex.  I was able to eat a yummy sushi dinner, take a long hot shower, and then lay in my own bed.  Then comes the next morning…
I woke up the next morning in the most excruciating pain I have ever felt.  Unfortunately, the headache and back pain came back with a vengeance.  I couldn't even move my head to look at the floor and be able to walk to the bathroom.  The pain was no longer manageable with Motrin/ Tylenol, caffeine and laying down.  My husband thankfully took over from here; calling all my doctors, and scheduled for me to go back into the hospital to have the blood patch.
I was still very scared to have an anesthesiologist inject something in my back again but the thought of having this pain any longer wasn't conceivable.   The spinal blood patch is a surgical procedure that lasts about 30 minutes and then recovery.  Going back into the hospital is not exactly what you want just after giving birth; especially during a pandemic.  Thankfully, I did not need to be tested for Covid again but I had to go into the hospital alone.  With not knowing how long I would have to wait or recover; my husband and I decided to bring the baby in the car so I could nurse him until they were ready for me to go in.  This was beyond stressful.
Typically the blood patch relieves the headaches within an hour for 95% of patients.  For me, it only made the headaches manageable with meds and caffeine. My headaches lasted for 10 days!!!  My back was also very sore from where the epidural and blood patch went in.  Needless to say, this situation was anything but an ideal experience.  Thankfully, we have an amazing support network and family who was able to stay with us and help out.  I honestly would not have been able to do it without them.
The experience was a bit traumatizing and super scary.  For the first two weeks I had awful flashbacks of the pain, the experience of the epidural, and my anxiety of it all.  I am here to say that I feel completely healed and the anxiety is gone.  I cannot express in words how thankful I am that Alex is the most amazing, healthy little boy.  Even though I would not wish this experience on anyone, I would do it all over again to have this perfect angel.
Xoxo
Jaimee